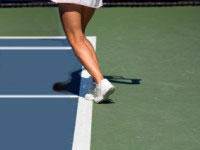 Q: Can I call a foot fault on my opponent, and what exactly is a foot fault?
A: Foot faults can be called only by a line/foot fault umpire which MEMRLTA matches do not have. So it is the responsibility of all players to ensure that through their service action, foot faulting does not occur.
The 2020 ITF Rules of Tennis, Rule 18 – Foot Fault states:
During the service motion, the server shall not:
Change position by walking or running, although slight movements of the feet are permitted, or
Touch the baseline or the court with either foot, or
Touch the area outside the imaginary extension of the sideline with either foot, or
Touch the imaginary extension of the centre mark with either foot.
If the server breaks this rule, it is a "Foot Fault".
Note that the service motion is completed at the moment that the player's racket hits or misses the ball (ITF Rule 16).