MEMRLTA NEWS & LADDERS
Ladies Oaks Day Round Robin & Luncheon
Please join us for a fun tennis day. All guests most welcome.
WHEN: Thursday 8th November, 9:15am for 9:30am start
WHERE: Donvale Tennis Club
COST: $20 - includes tennis, lunch, glass of bubbles/OJ & sweep entry
WEAR: Your frilliest tennis dress & a fascinator - yes, you can play in it!
BOOKINGS: essential - close 1st November
CONTACT: Joy Kaias 0413 399 038 or joykaias@hotmail.com
Foot Faulting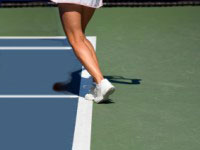 We do not have line/foot fault umpires, so it is the responsibility of all players to ensure that through their service action, foot faulting does not occur.
The ITF Rules of Tennis, Rule 18 – Foot Fault states:
During the service motion, the server shall not:
Change position by walking or running, although slight movements of the feet are permitted, or
Touch the baseline or the court with either foot, or
Touch the area outside the imaginary extension of the sideline with either foot, or
Touch the imaginary extension of the centre mark with either foot.
If the server breaks this rule, it is a "Foot Fault". Note that the service motion is completed at the moment that the player's racket hits or misses the ball (ITF Rule 16).
Update to Summer Fixture Book
Section 5 teams, please note: the phone number for S5 Eley Park team 0437 917 424.
Section 8 teams please note: the captain for the S8 Donvale team is now Bronwyn Brown (not Monica), phone 0488 040 860.
Ladders for Downloading & Printing
Ladder for Summer 2018/19 Season - up to and including round 3 (9/10/18)
Points by round for Summer 2018/19 Season - up to and including round 3 (9/10/18)
Live Ladders & Match Results from tennis.com.au (Match Centre)
Please report any discrepancies to the Record Secretary ASAP.
Click on "MEMRLTA Summer 2018/19" below and then on the section you want to see.