2023 ANNUAL GENERAL MEETING
The 2023 AGM was held on Tuesday 20th June.
North Balwyn Awarded the Anne Hubbard Trophy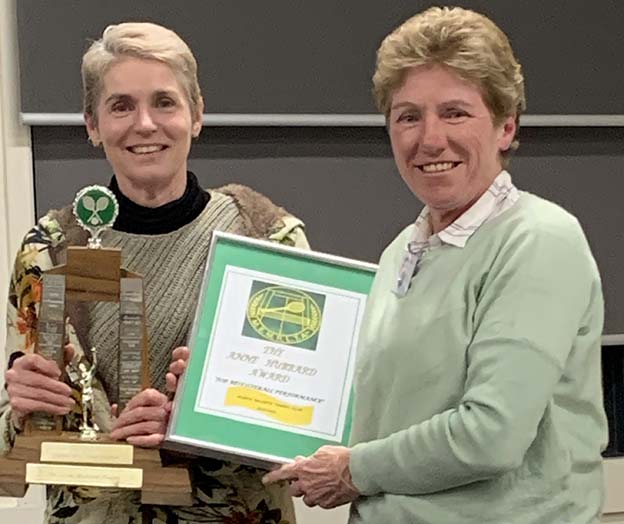 Kaye Johnson from North Balwyn accepting the Anne Hubbard Trophy from MEMRLTA Vice-President Fiona Dwyer
The Anne Hubbard Trophy is presented to the Club obtaining the best teams' performance over the previous two seasons and it is calculated using the end of season ladders. The points for determining this year's winner were very close:
1st North Balwyn, 45 points
2nd Legend Park, 44.75 points
3rd Camberwell United, 44 points
Equal 4th Glen Waverley, Kew and Kooyong, 43 points each
Amendments to By-Laws
All proposed amendments to our by-laws were passed.
Permitting the use of indoor courts—While historically MEMRLTA has always been an outdoor competition, teams will now have more options for completing washed-out/heated-out finals.
Teams will now have more time to complete a washed-out/heated-out grand final.
Players who don't belong to a club can now become a financial member of MEMRLTA so that they may join our Emergency Pool.
The required time to wait before calling a washout has been reduced from one and a half hours to one hour.
Section 1 matches will now have a tie-break at 7 games all.
There is no longer a fine for forfeiting. Other fines have been updated.
Starting with the Summer 2023/24 Season, scores awarded for forfeits will be: The winning team to receive no change in their percentage (score of 0-0 instead of 48-24) and the team giving the forfeit has a score 12-48 (instead of 24-48) recorded against them.
For details about these amendments, see the Agenda.
Condolences
To remember our past team members and friends, many of whom we would have only known because of our association with MEMRLTA tennis, the names of those past MEMRLTA members who have sadly passed away since our last AGM were read out and a moment of reflection was given for:
Sylvia Priems, Croydon Tennis Club
Val White, Greythorn Tennis Club
Nina Socratour, Doncaster Tennis Club
Bernadettee McPhee, Glenvale Tennis Club and Glen Waverley Tennis Club
Committee Elected for 2023/24
President: Hope Stewart
Vice President: Helen Williams
Secretary: Fiona Dwyer
Treasurer: Christine Shearer
Record Secretaries: Jackie Aslett and Christine Youings
Committee: Skye Berman, Ros Brereton, Noelene Duckett and Jessica Fary